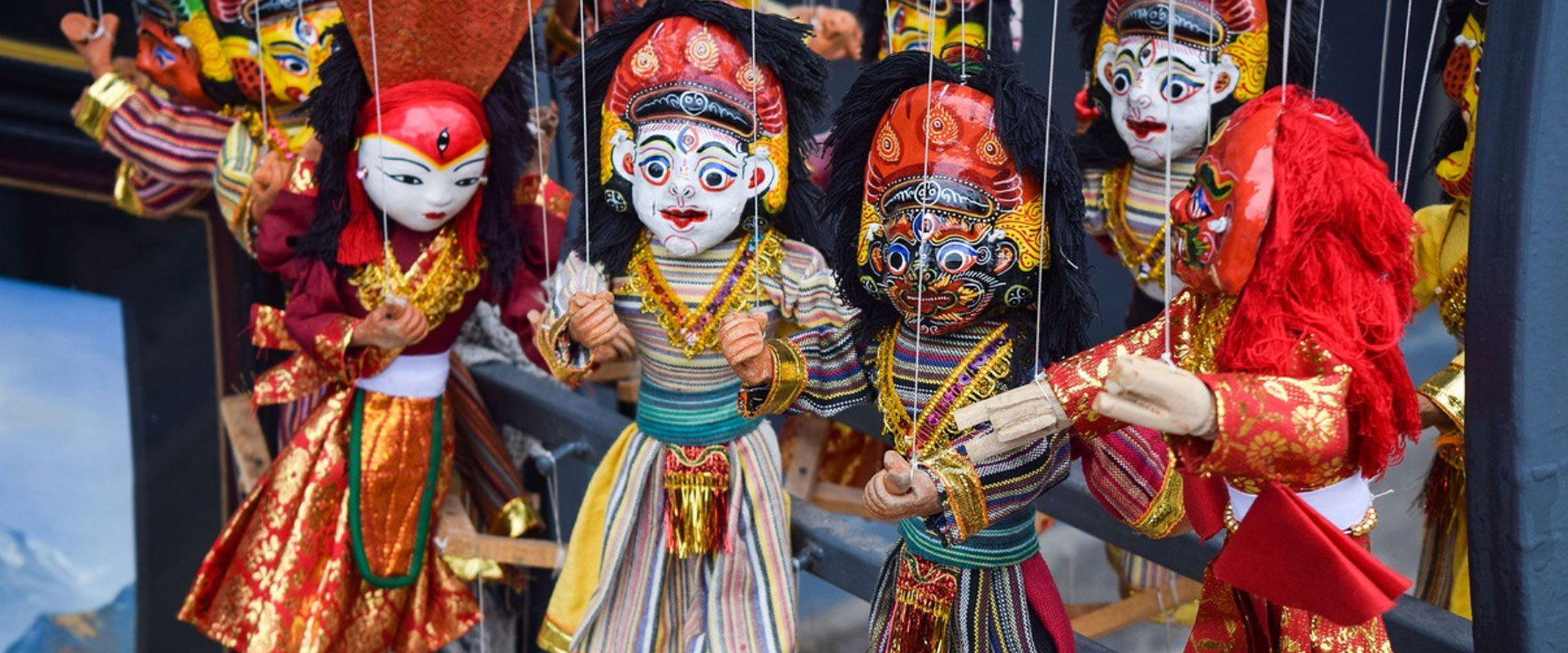 When it comes to list the top authority and trusted site, Wikipedia is always ranking with in the top 10 results. Wikipedia is one of the oldest and biggest sites and is popular among the Internet users. Why? Because, this site ranks for almost every keywords searched for.
There is still a hot debate regarding the "no-follow" links from Wikipedia page but trust me a backlink from a relevant page means a lot of value for SEO. This is one reason everybody wants a link from Wikipedia.
The value of that link is something that a lot of people debate and I'll give my own opinion. A link on a relevant Wikipedia page is worth a TON for your site's SEO. When you have a link from Wikipedia, it means your webpage has some piece of trust worthy content. Content that actually provides value to users.
You tried to get a backlink from Wikipedia in the past but it was deleted.
With the experiences I have in creating backlinks from Wikipedia, you need to have useful content on your page first. When people go to your site through Wikipedia, it must provide some information they are looking for. Deep rich contents that can answer what users are looking for. If you link to a page that provides no information at all, then there is a high chance that you will have your link deleted from Wikipedia. There are human moderators, who check up with the changes made.
Don't just point a link to your homepage!
Most of the homepages do not provide much information on what people are looking for. If you have a content rich blog post then you should be good to go.
Don't link to a page with poor and thin content! Spend sometime creating content that actually provides value and is relevant to the wiki page. And then link back to the page from Wikipedia.
In my case, I have never been disappointed and my links are still there.
How to get backlinks from Wikipedia?
Let me break the way into simple steps for you.
Search for Wikipedia pages that needs citation or has dead links in it
Check whether your piece of content fits there.If not create one
Replace the broken link
1. Search for Wikipedia pages that needs citation or has dead links in it
Foremost thing to do is to search for the broken links. But, how?
The success ratio in earning a backlink from Wikipedia is much higher with replacing a "dead link" than adding a new citation ("citation needed"). The method of fixing wiki "citation needed" is very similar to fixing dead links.
How to find Wikipedia dead links ?
Wikipedia is free for everyone. Anyone can edit the information and this is one reason why you can find some link building opportunities in those pages, by replacing a dead link or adding a new citation . Our target, here, is to find those Wikipedia broken links and replace them with ours.
In this step we are going to find out broken links in Wikipedia. I am going to show you two different ways to get things done here.
I. Using Advance Google search query
II. Wikigrabber (Free Tool)
I. Using Advance Google search query to search broken links
We are looking for "dead link" and "citation needed" in Wikipedia pages.
Type in the queries
site:wikipedia.org "keyword phrase" "dead link"
Or
site:wikipedia.org "keyword phrase" "citation needed"
See the screenshot below: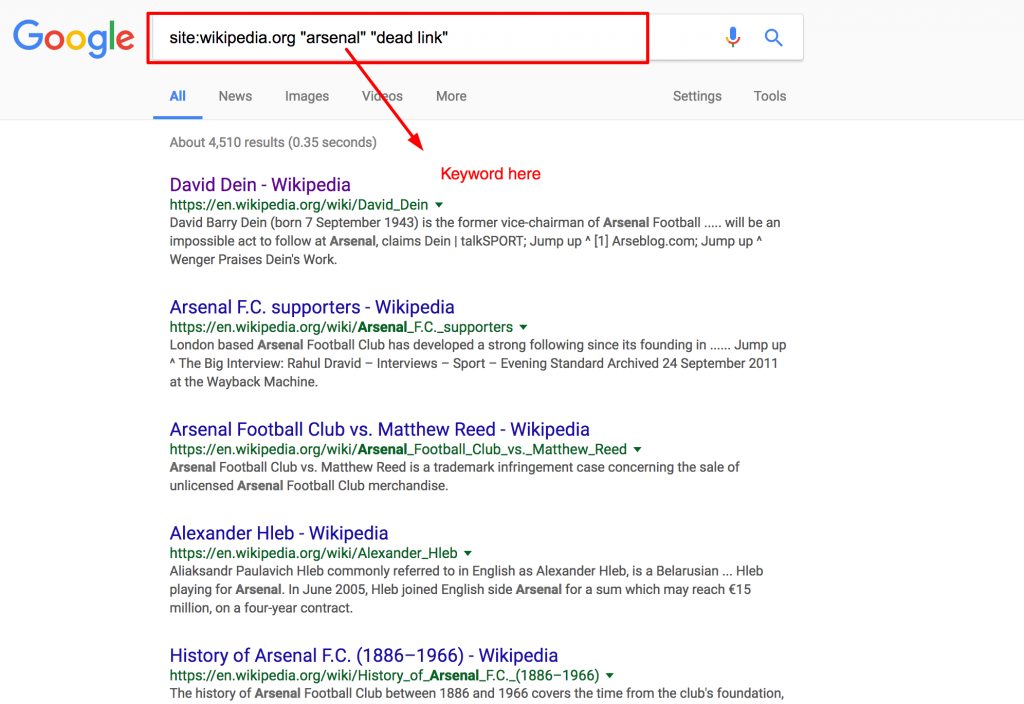 These search queries will look for the pages in Wikipedia that contains a combination of your "keyword phrase" and "dead links" or "citation needed", depending on what you insert. If you do a quick search in the page you can see those terms your searched for: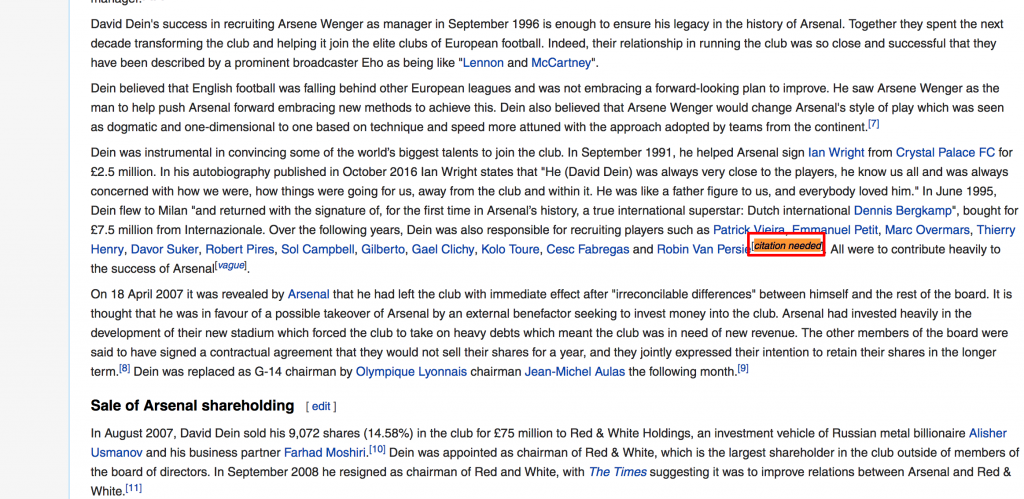 II. Using Wikigrabber

This is one of my favorite Wikipedia dead link finder tool. And it is free of cost too.
Wikigrabber allows you to type in a keyword and the results will come up with relevant Wikipedia pages.
I am a big fan of Arsenal football club so I am going to use "Arsenal" as my keyword here. The results contain the list of pages that are related to Arsenal. Now you have a list of targeted urls.
See screenshot below:
Now you can filter out urls as per your need. Use the filters to list out "Dead Link" or "Citation Needed". Go through each url in the list and see if there is a chance for you.
2. Check whether your piece of content fits there. If not create one
There's no fuss if you already have a relevant content for the broken link you found but if you don't have one, you can always create one.
How to create your super content with reverse engineering?
What if the wiki page is relevant to your niche? What if you can recreate similar content like that? If the answer is No then move on and find wiki pages that can actually suit what you are looking for.
With the methods explained above, you can easily find Wikipedia pages from which you can create a backlink to your site. In most cases "dead links" means the page doesn't exist anymore. Either it has been moved or deleted. Head over to the page and check for the url that is dead.
See the screenshot below.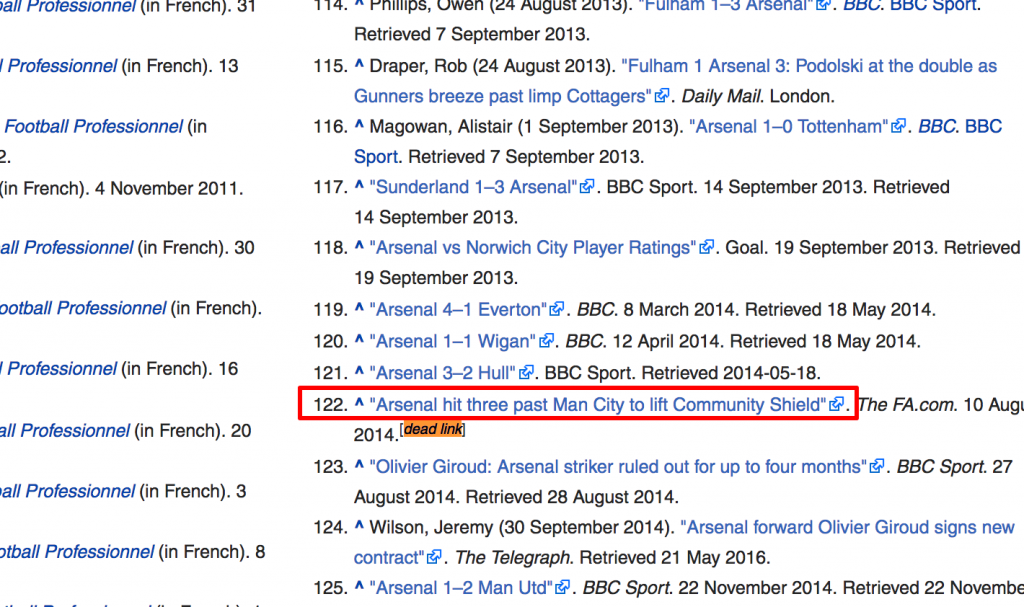 With the broken link as shown in the screenshot above, I am going to do a Wayback machine check.
Wayback Machine: The website works as the digital archive of all the websites that existed back from 1996 until today. You can find out how a certain website looked like in the past. Since it saves every version of the web pages, you can still have access to the contents even if the website you are looking for is changed or deleted at present.
Insert the link and browse through the history of that page.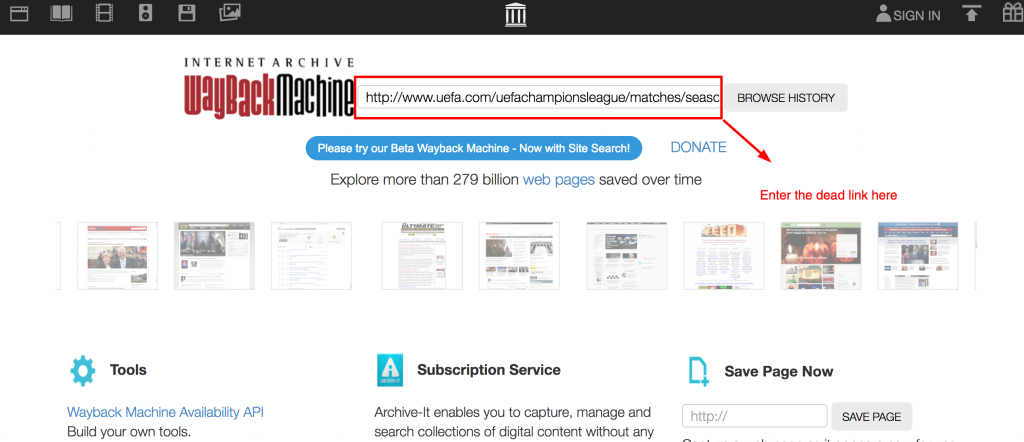 Wayback Machine captures snapshots of the particular url over time. The idea here is to look into the earlier copies of the url and check what was there. Analyze the content available on the url. Keep searching for more broken links until you find something that actually fits in your niche. Something that you can write about or already have on your website.

If the snapshot of the url in Wayback Machine is related or close to your niche then all you need to do is recreate something similar. Don't just copy it all. Recreate the content on your blog.
Voila! That wasn't too hard to do!
3. Replace the dead link
So, you found a broken link on the Wiki Page relevant to your niche. With the step explained above, you have already created the piece of content on your site. Final thing to do is to replace the dead link with your own url.
How to edit a dead link on Wikipedia?
Before you rush to add your link to Wikipedia page, there are few things that you must consider. Your edits on wiki will pass through human moderators. Make sure the page you are going to link is going to provide some value or information for users.
We need to scratch wiki's back first before being rewarded with a backlink. Register for a new account in Wikipedia or use your existing one. With a new account, I do not encourage you to build link to your site directly. There are moderators who are watching on your activities. So it's time to scratch Wikipedia's back. Help Wikipedia by fixing up some broken links before adding your link. This section will cover about adding links to wiki articles in just two simple steps.
Step 1: Register yourself for an account
It's free for everyone. Just use the register button on the top.
Step 2: Editing an article
Don't just go adding your links!
Editing an article is pretty straightforward. Open up the page with broken links.
Use shortcut keys on your machine. "Ctrl + F" for Windows and "Command + F" for mac users. Now enter "dead link" without the quotes as shown in the image below.

Here in my example, the dead link is in the reference number 122. Search for the reference number in the page.
See the screenshot below.

Head over to the section that contains the dead link. Use the Edit button to open up the editor. You can still use the keyboard shortcuts to find the term you are looking for.
Replace the broken link with your new link. Add a short and clear description that defines your changes.
Here are few examples:
"Replaced a dead link with a new link"
"Added a new link for the dead link"
This will help the moderators to understand what changes were made even though they are going to check with the changes anyway.
You can take a quick preview to see everything is fine or you can just click save if you have confidence on the changes you made. You will be notified with prompt error message if you have messed anything with the code while making changes. Double-check and fix the errors.
Once you are done with editing the articles you should be able to see the link.
Best thing to do is help fixing some dead links first. Wait for a few days and check if the link is still there. Sometimes the link may stay there for few days until a moderator finds out its irrelevancy and has nothing to do with the page. Then the links gets deleted.
Wrapping it up
So, now you know how to acquire a backlink from Wikipedia. If you stick to the steps mentioned in this blog, there is a high chance you will have your link on Wikipedia for a long term.
Do good and good will come to you!
Thoughts? I'd love to hear about my post. Drop me your questions if you have any.