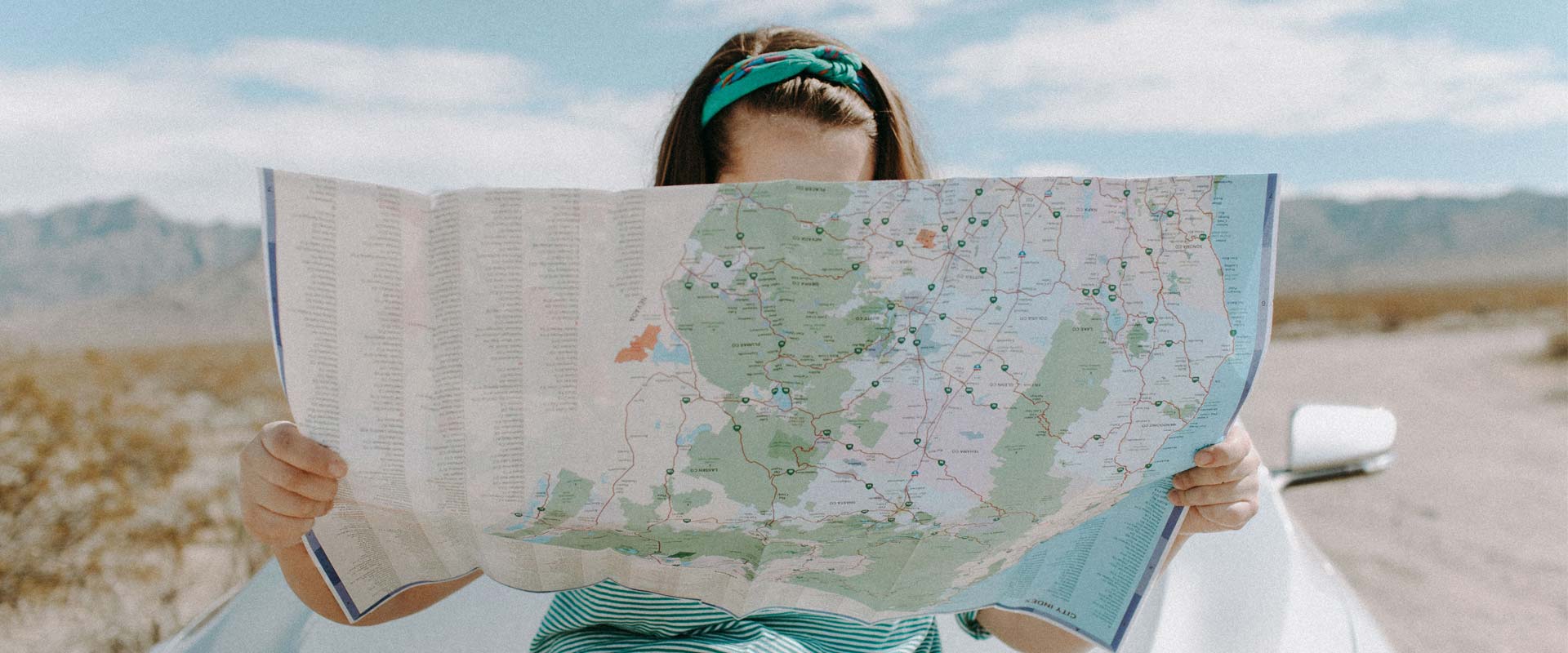 Travel SEO is not a theoretical concept. It is a term that describes the set of steps you can follow to optimize your travel website for search engines. SEO may be hard and slow, but it is one of the highest ROI marketing processes. The travel industry is very competitive. It is important to market your travel company properly and attract new customers at a reasonable acquisition rate stand to make profits.
Why Do You Need SEO for Your Travel Business?
Getting free leads from search engines
The main focus of SEO is to help a website appear higher in the search engine result pages (SERPS) for keywords that relate to your business. For instance, when a user opens Google and types "best hotels in Kathmandu", the website optimized for SEO will appear first in the results. This means more qualified leads for the websites.
Google did a research study on the behavior of 'travelers", which showed that a bigger percentage of individuals start their travel and booking process through search engines.
It is obvious if your website lacks high rankings for your business keywords, you do not have a competitive advantage since your prospective consumers are lost.
Interestingly, even though there are bigger brand websites, users still turn to search engines when they are ready to plan for their trips and vacations.
More Cost-Effective when Compared to Other Alternatives (PPC)
If your travel websites do not practice SEO, chances are they will not be in the high ranking in searches. However, the website can still get traffic from those searches through PPC, mostly Google AdWords.
AdWords is a good practice and you can get highly targeted traffic to your website fast. But it is not as cost-effective when compared to SEO.
The reason is simple: when you stop advertising with AdWords, you will not get as much traffic while with SEO, once you have a good ranking, targeted traffic will flow 24/7. Also, for each visit you get from AdWords, you will be required to pay a few dollars per click. The amount paid is dependent on your daily budget and it can reduce your traffic and lower your rates of conversation.
SEO can be a bit expensive but in the long run, it is a better investment.
SEO can guarantee your business growth
Can you imagine the number of leads and bookings you can get if your travel website had more than 3000 visits every day for the highly targeted keywords? How could this affect your business plans?
A constant flow of targeted traffic for your travel website can transform your business. It can guarantee opportunities for growth that would not have been possible without SEO.
Even though it is said that nothing is guaranteed in SEO and digital marketing, getting good rankings in the correct way can greatly influence your travel businesses for the better.
How to do SEO for your travel agency website?
Structure your pages properly
Having a neat and easy website structure makes it easy for the users to navigate through your site and find the right content with in few clicks. This also makes the whole process easy to find the other related articles and important pieces.
From the seo point of view this will establish the topic authority and pass on the link powers through the internal pages. A simple rule of thumb is to power up your main page with supporting pages through internal linking.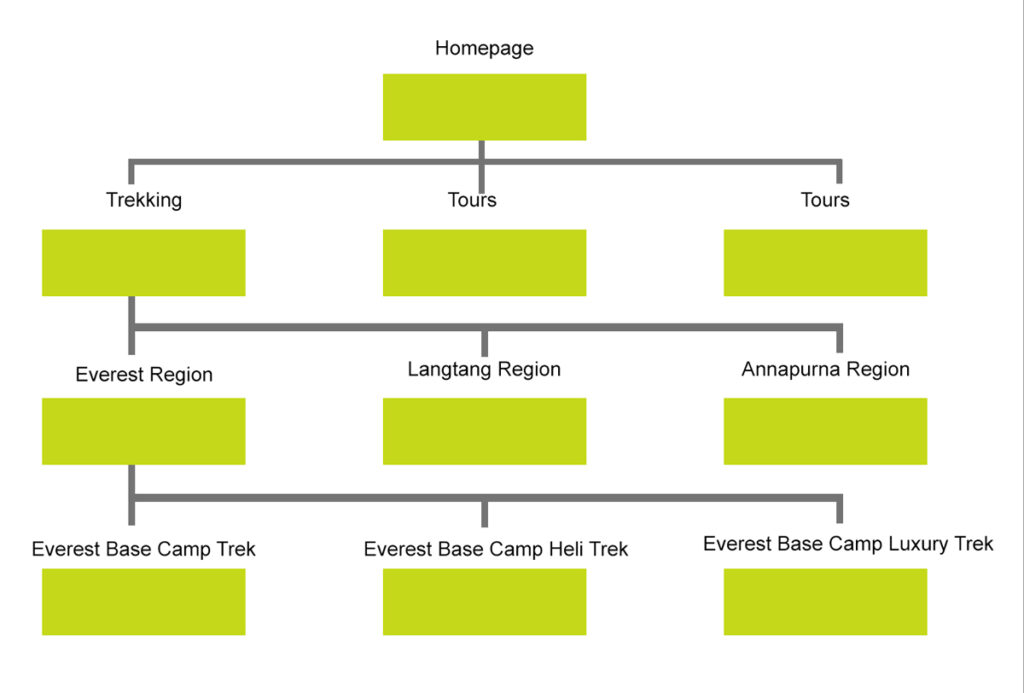 As in the example above you have to structure your site based on topics and sub-topics so that relevant contents are arranged accordingly.
The above figured can be presented in the follow way:
yoursite.com/trekking/
yoursite.com/trekking/everest-region/
yoursite.com/trekking/everest-region/everest-base-camp-trek/
yoursite.com/trekking/everest-region/everest-base-camp-heli-trek/
yoursite.com/trekking/everest-region/everest-base-camp-luxury-trek/
This way you can pass the internal link juice from different relevant pages and power up your main pages. When you build link to any of these pages, it also helps to push the other relevant pages.
Optimize Page Titles & Descriptions
Many websites undermine page titles and descriptions as an aspect of SEO. Search engines regard the two as important when assessing the relevance of the page and click through rates. Therefore, make sure that they are optimized. The more relevant the title and description, the higher the click-through rates, thus improves the ranking signal for Google.
Also, page titles and descriptions have a great effect on your click-through rates since they are all that users will see on the search results. Page titles and descriptions greatly affect the decision of the user whether to clink on the link or keep scrolling. You should ensure that the title and description are relevant and attractive in terms of what the user wants.
Even if you have a better offer or a better deal for your customers but if they are not clicking your url on the SERP and not coming to your page, then you are losing 100% of your potential customers.
Make sure that relevant keywords are included in your title and description. The characters should be below 70 and 160 for the title and description respectively. If you consider using highlighting 2-3 of your main services in the title, you should use separators to make it user-friendly.
Optimize URLs
Another aspect that many websites ignore is URLs. They do not have the same weight as your title and description. However, the use of search engine-friendly URLs with relevant keywords and a consistent structure across the site will have a positive impact on your SEO efforts.
Here are some tips for optimization of URL:
Include target keywords in the URL
Try to keep it short
Avoid the use of uppercase in your URLs
Use hyphens in your URLs since Google does not read underscores
Optimize your Images (lots of images on travel site, optimize the image size and add alt tags)
You have uploaded lots of good-looking images to entice your visitors, but are they visible to Google? Search engine crawlers do not understand images yet. Therefore, you must use image tags with relevant keywords to help search engine crawlers understand what the image is all about.
Tagging the images on your website is important for image search. If your image tags match the query of the user, there is an increased possibility that your site will emerge in image search. The user will then be inspired to click on your website. Consequently, you will drive traffic through the tagged images. Do not forget to use the right keywords.
Focus on page loading time
The time taken for a page to fully display the content on the page is very critical because it is a ranking signal for Google. It means that if your website takes too long to load, there are chances that you may incur penalties from Google.
The recommended page load time is around 2 seconds. Test your website page load speed in Google Pagespeed Insights.
The page loading time affects rankings as well as bounce rates. Visitors will not wait long for your page to load and this will increase your bounce rate which will negatively affect your ranking.
Here are a few things you can do to improve the loading speed of your website:
Reduce HTTP calls through the use of sprites and enable browser caching
Browser caching can be leveraged to improve page loading speeds. The technique enables the browser to store different information such as images, stylesheets, and JavaScript files, to prevent reloading the entire page every time a user is visiting.
Same as the W3 Total Cache, WP Rocket is a powerful caching plugin that you can use if you are using a WordPress site. It enables page caching and cache pre-loading to optimize the speed of your pages, and create fast loading times.
Compress images on your website
Images improve the appearance of your web pages and increase the overall quality of your content. However, large images can also delay page loading time. Thus, you will need to compress and optimize your images to help increase page loading speed. You can change the format of files, enable lazy loading, and compress images through lossless compression.
Reducing the size of your image files helps to reduce the 'weight', which in turn helps your pages load quickly. Try Avoid using images with .png format since this formate cannot be compressed. Image formats like .jpg and .jpeg can be compressed with our losing the quality of the image.
Use content delivery network (CDN)
CDN is a network of servers that help to improve page loading speed by hosting and delivering copies of the site's static content from servers globally. CDN works in place of your host. Also, you can leverage a CDN to distribute copies of files from the site among strategically chosen data centers in addition to the server that hosts your primary site.
Since most of the travel sites are filled with lots of images and videos, using CDN can be a better option to deliver these static contents to your users requests.
This will help to maximize performance as it will reduce the distance data requests that need to travel between the host server and browsers. A CDN reduces network latency and produces lower TTFBs by loading the content for a web page from a server close to each visitor.
Reduce your HTML and CSS to make their sizes smaller
Optimizing the way your files load helps to improve page loading speed. You can reduce your HTML and CSS codes. This means that you will remove unnecessary characters, spaces, comments, and other unnecessary elements to reduce the size of your files. Reducing the file size makes it easier to combine them getting cleaner code and a leaner web page that loads faster.
Combining through every line of code for each file in your site is not essentially efficient. If you are using platform like WordPress then you can find a lot of free plugins that perform this job well. Other wise you can talk with your developer and see what can be done.
Reduce your Redirects
Too many redirects on your site affect loading time. Every time a page redirects somewhere else, it prolongs the HTTP request and response process. In some cases, redirects may be necessary, for instance when you are moving to a new domain. However, getting rid of unnecessary redirects on your site can lead to shorter page loading times.
Check every urls in your site and see if there are any redirects that needs to be fixed. Some technical issue in your site can cause infinite redirect chain which can be a serious issue for your site. Ensure when and where to use redirects but keep the numbers low.
Responsive website
A responsive website has a fluid and flexible layout that adjusts as per the size of the screen. A responsive web design offers an optimized browsing experience. This means that your website will look great and work efficiently on a tablet, desktop, and mobile phone's browser. A responsive web design is important for SEO.
Here are few benefits of a responsive web design for SEO:
1. Site Usability
Most visitors are impatient and they prefer on-the-spot solutions to their needs. Mobile visitors are more impatient than desktop users. However, this is not to say that desktop users want to waste their time. 53% of mobile users have a higher bouncing rate if the page will take more than 3 seconds to load.
A responsive web design helps to optimize websites for mobile search, thus improving the functionality of the website. Also, it scales the content of user devices hence offering a consistent user experience across all devices.
2. Faster page loading time
Since 2018, Google has been using mobile site speed as a ranking factor in mobile search. Google's updates are in line with the behavior of users. Increased use of mobile devices means that there is a paradigm shift for how Google index, crawl, and display results in SERP to satisfy the needs and expectations of people, thus promoting consumer satisfaction.
In a world where mobiles are so essential, having a responsive web design is a fundamental part of a successful SEO strategy. Responsive web design will help you to rethink the content as well as the layout of your website. You will thus have a smooth user experience regardless of the device used. Failure to do this will lead to reduced traffic.
3. Reduced Bouncing Rate
The bounce rate reflects the percentage of users who land on a page and decide to leave before exploring the website. Google considers weighing the relevancy of a web page for a specific search query.
A high bounce rate consequently leads to reduced ranking, which means that your content is irrelevant. Also, a high bounce rate reflects a poorly designed website.
Good content will not guarantee traffic if it is not supported by an appealing design. Responsive web design adjusts the layout of your web page, displaying the same content to any device.
4. Boosting Social Sharing
A responsive web design makes it easy to access content sharing across all social media platforms, thus expanding your audience. Your audience will access the same content on any device. They will also be able to share with friends as well as their social media profiles.
Focus on local SEO
Local SEO is key in ensuring you get to rank for searches that relate to travel providers in your area. Ensure that you have verification for the Google My Business account with accurate contact details, photos, descriptions, and any other relevant information. Make sure you verify and optimize your Google my business listing (GMB) to rank higher in the local results.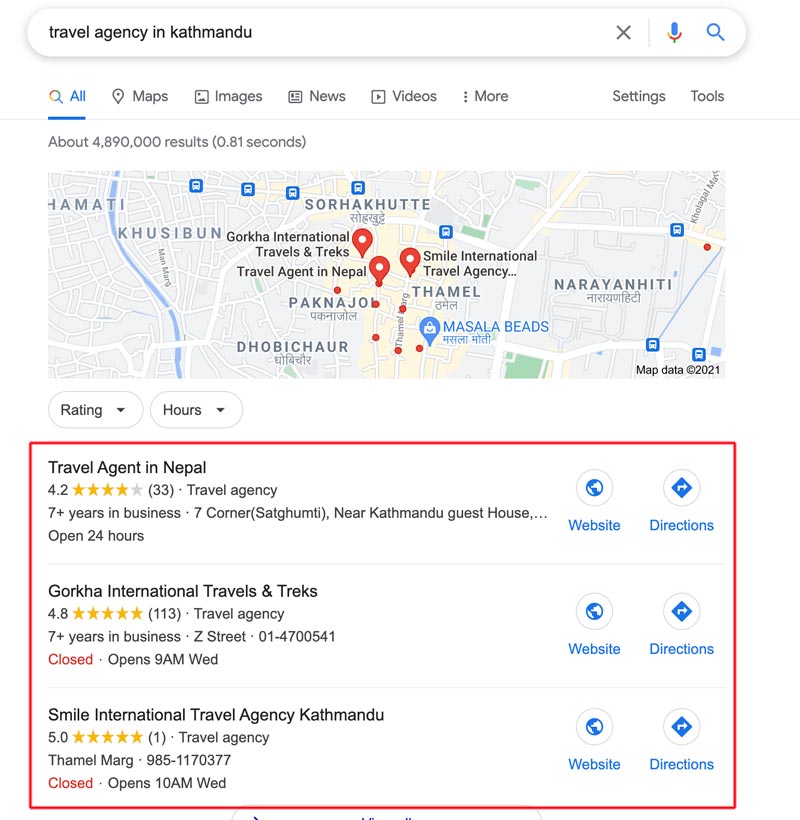 Don't underestimate local search. While local travel company and international brands are competing for the bigger terms like "everest base camp trek", local travel company can still take advantage of their verified GMB for local search terms like in the image above.
Local seo is more targeted towards a specific location e.g state, city or neighborhood and Google will track the user's location and deliver the best local results based on the location and search intent. This means, you need to rank for the search queries around your location and neighbourhoods, and users around that location.
Local SEO is the area where you are likely to make win over big competitors even when you do not have enough funds to fuel your seo campaigns. Local search results lists out GMBs above the urls in the SERP.
Understanding seasonality and search trends
Travel is a seasonal business and you will understand the trends once you get the most traffic and inquiries. Google Trends is a fundamental tool that will help you map travel research keywords. This will be beneficial in that it will help you curate content and a content calendar. Also, it will give you more insight into your buyer journey from the research phase, all the way to the purchase.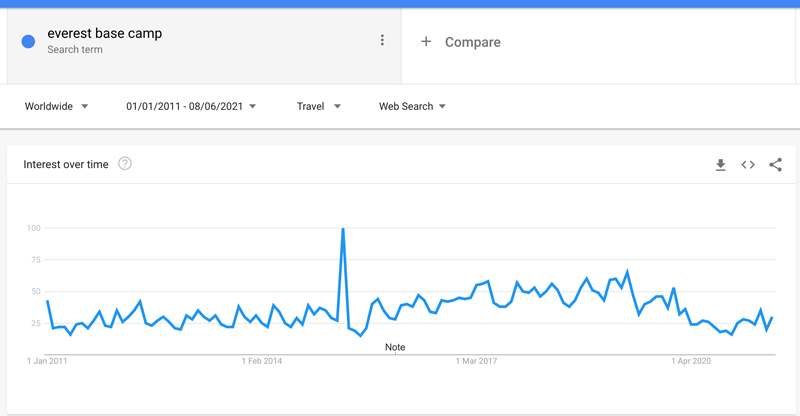 The above figure shows an idea how how the keyword "Everest base camp" was searched worldwide from the year 2011 to 08/06/2021. The figure show the keyword search was mostly high on the month March, April, May and September-October.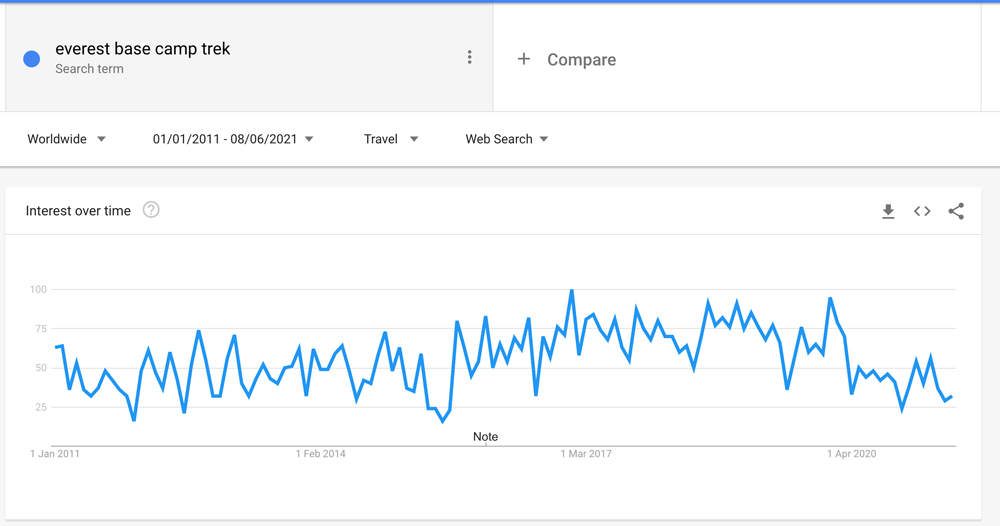 The above image shows the search pattern for the keyword "everest base camp trek" from 2011 to 08/06/2021. This also gives the idea on what months the search were heavy in comparison to the other months. You can use this method to identify your seasonal keywords and optimize them beforehand to catch up with the trends.
You can use Google Trend data in two main ways:
1. Create relevant content to coincide with the peak
You can discover and learn more about seasonal trends and then create content targeted for those seasonal keywords. This way you don't have to waste your efforts and money on those seasonal keywords throughout the year.
2. Start optimizing existing relevant pages before the peak season
Once you have published the guide, you will have time to strategize other channels and offsite link building that will build authority and point attention towards the guide.
Fill Out a Schema Markup for Your Site
Schema markups are one of the coolest features that you can use to optimize your pages and increase your click through rate. They are known to only work for sites in the very first positions in search results. However, you can include lots of useful information like price, reviews, etc. for users to see before clicking on your link. You have a choice to make the schema look as authoritative and presentable as possible.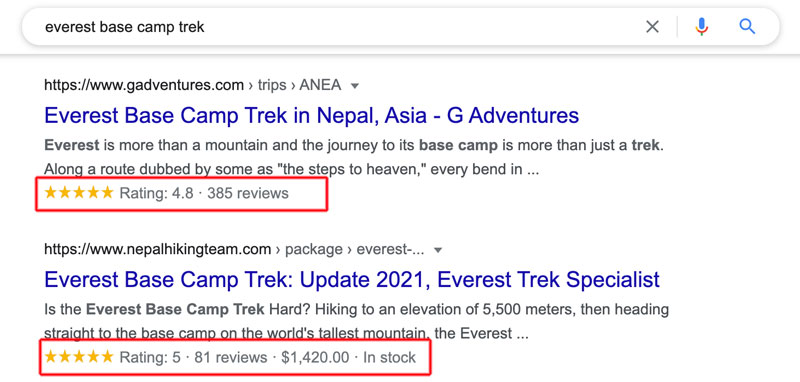 Using schema you can include reviews about particular destinations and treks. These reviews will also appear in the SERP result and hence it can help you stand out from your competitors. It is a great way to increase CTR and traffic on your site.
Understand your audience and write for them. Not for search engines
Ensure that your target audience is aware of what to expect when they want to book from your website. Indicate all the details on what will be included in their packages to avoid confusion. Also, indicate what will not be included in their preferred package to avoid bad reviews.
People normally turn to searches when they want to feel confident about their purchases. Whatever they are searching for, becomes an opportunity to engage with travelers. Always find an opportunity to highlight the experiences that people are seeking instead of just indicating the prices.
Produce more quality content
As a Tour Operator, Have Deep Knowledge regarding the Destinations.
You know the destination better than other people because you frequent the places. Therefore, ensure that you add in-depth content about individual destinations and other attractions to capture the attention of your clients. It is the little details in your description that can lead to increased leads and booking, thus increasing your profits.
Who knows your area and neighborhood better than you? It's you! Be the one to produce the best content about these areas and point to every detail in it.
It is important for the tour operator to deeply understand the destination, whether it is daily walking tours, weekly Safaris, or annual luxury trips. Be the one and the most reliable source of information over the internet.
That deep knowledge about your services is your number one advantage when it comes to content marketing, SEO, and the trust of the visitors. Ensure that you transfer the knowledge to your website for you to grab the huge opportunity.
Google loves in-depth and profound content. Websites that are capable of offering the ultimate guide for their trips and destinations have an advantage compared to other travel websites. The internet has the power to drive sales for travel tour operators who have embraced the technology fully.
Consumers prefer to read everything online before they decide to call your company. Ensure that you have an enticing website and all the important information is listed there. You will witness the traffic and the bookings.
Here are the examples of what you can write:
Travel tips
Activities you can do in your destination.
Places to visit while enjoying your holidays in a particular area.
Special guides for families with kids.
Special guides for large groups and young people.
Local guides (where to eat, where to go at night etc.)
Final Thoughts
Doing business without having an analysis strategy is the same as playing blackjack using a single card. You can do competitor analysis using the websites of your competitors to get to know their hidden aces. In travel SEO, you need to ensure that you have a competitive advantage. In addition, you should be up-to-date with things that will make your company stand out. As a start, this article will guide you to understand the basic thing that will make you move to the next level.